The independent release Play That Rock 'n' Roll follows the unstoppable success of recent single Joyride, which is appearing on popular Youtube channel "Diesel Creek" with over 2 million views & counting while receiving airplay from tried & true favorites: 102.5 WDVE Pittsburgh and Q94.3 Central PA. With over 3 albums of original material under their belt, Semi-Supervillains dug back to their roots on Play That Rock 'n' Roll–black coffee attitude taking cues from classic rock's finest, without taking themselves too seriously
---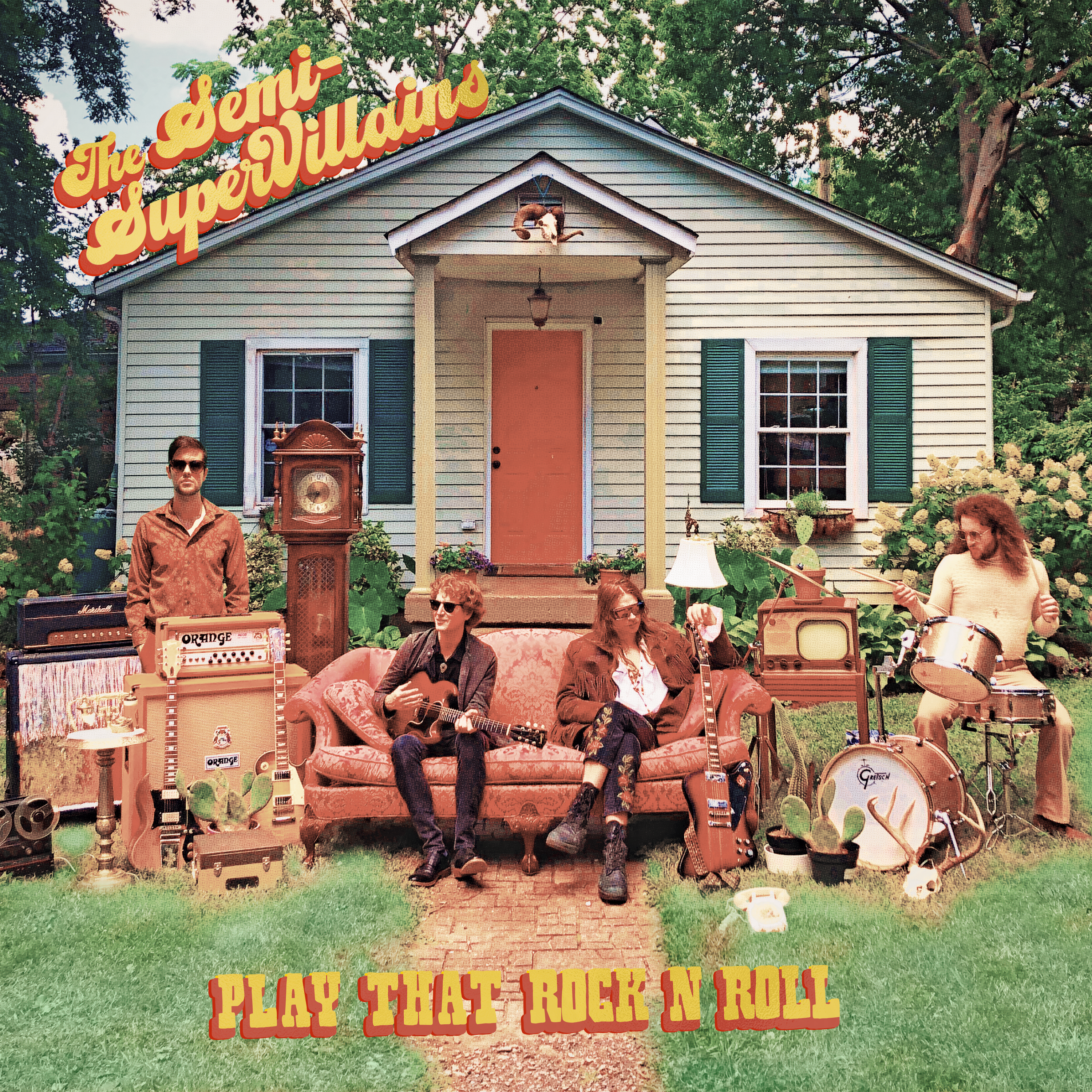 ---
"Will make you want to buy a beaten up classic car off of a drifter and drive it until engine blows."- Steel City Death Club
"The album is straight to the point, raw & dirty with its grittiness well-represented" -Nashville Voyager
---
After months of trusting their instincts, Nashville based Semi-Supervillains have emerged with Play that Rock 'n Roll, an album so vivid that it meets and even exceeds the cool confidence its own title suggests. Longhi & Short's dueling guitar work is both complex and compelling, whether in the refracted rainbows they warp-up on Diesel Creek or the noisy matrix across the readymade rock-club banger Joyride. Certainly, the title track Play That Rock'n' Roll feels like a hit, with a hook that instantly catches and curls its finger--lyrically, stylistically, temptingly--toward your favorite dive bar. Longhi's lyrical & musical mix of nostalgia and need is immediately relatable, too, bringing the band's power pop sound a little closer to that southern comfort sound we all enjoy.
The song Joyride boasts a timeless car radio hook which perfectly captures the exhilaration and freedom of cruising with friends. Joyride's up-tempo rhythms and high harmonies have an uncanny way of maintaining bright and buoyant mood without ever coming off as cloying.
Then there is the heart-wrenching Play That Rock'n'Roll which serves as the thematic namesake of the album. The track builds from an intimate lament to a magnificently cathartic Phil Spector-like crescendo of buttery Brian Wilson vocal harmonies melted over southern fried rock laced with melodic guitar hooks.
Lick a Toad is a dark road ramble that will, at the very least, make you wanna dance around with a drifter, if not run off with them.
Heavy-hitter Bad Place is as vulnerable as it is invincible. I hope that anyone who knows what it is to be an underdog might heed their reflection in this dark song and feel more alive. Greta Van Fleet please take note: this is how it's done.
Diesel Creek exits in a moment of space-rock ascendance, erupting into a bold new colourful direction. The album cover visually represents this tune the best.
Spaghetti Western inspired Pray would fit in Sergio Leone's "The Good, the Bad and the Ugly." In this reverb soaked epic, a duel between rivals manifests. With his detailed storytelling evident from start to finish, Longhi weaves a tale that moves between fervent adventure and spacious lyrical euphoria.
Overtime carries a suitably vintage rock sound full of rattle and clang being a product of a long winding musical highway.
Snowplow Man closes out the record and reminds us that the Semi-Supervillains aren't completely villainous, but they are fully rocktagious! The very low budget music video for this tune is a hidden gem.
Play that Rock 'n Roll is the first time the Semi-Supervillains have sounded so unapologetic and shamelessly clad in 1970s AM radio guitars, rambling stoner boogie, and arena rock balladry-often in the course of one song. After years of restless exploration, this feels like a definitive arrival. Play That Rock 'n Roll is music written in the sense of roots but ready to speak to the future. The work is its own rarified reward.
---
Early on in his career, front man Vinnie Longhi had the privilege of working with legendary producer/guitarist Rick Witkowski (Crack the Sky, BE Taylor Group). Longhi quickly developed the "song-centric" skill set he required to succeed as an original rock group while working closely with Witkowski.
Since moving to Nashville in 2019 Longhi has recruited local rockers Izaac Short (Weird Sisters) and Logan Compton as well as continuing to work with long-time collaborator & pal Johnny Pennacchio to create both kinds of music: "Rock and Roll." On the cover of the album you can see the aforementioned band members posing in front of Longhi's East Nashville home - where Play That Rock 'n' Roll was written and recorded.